Design Benefits & Features
Benefits of Innovative Camper Design
The Oliver Travel Trailers' design was inspired by years of using other travel trailers and making every aspect better. The Oliver is built with a higher quality, more efficiency and easier to use and maintain.

See the information below about how the design of our trailers will benefit you.
4-Season Living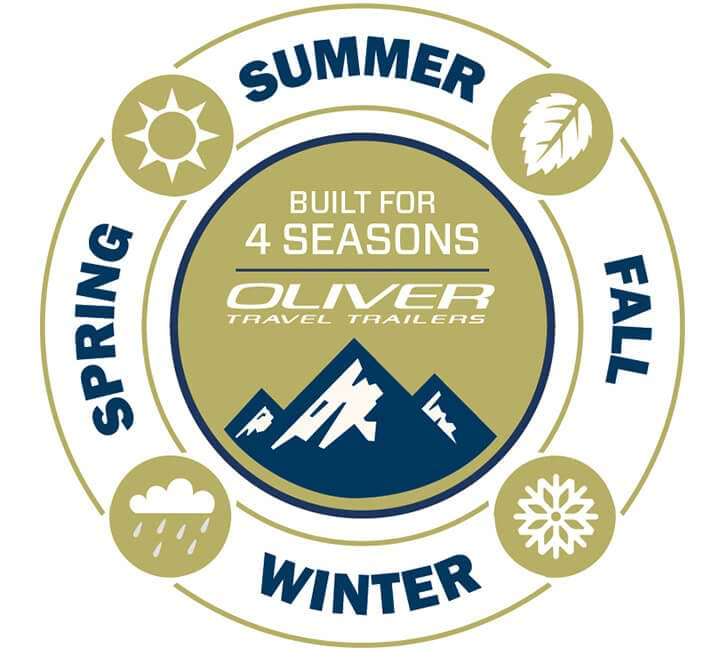 We have not seen a more comparable travel trailer design that provides the level of extreme weather protection that Oliver has from the elements.

With the double hull, you have similar attributes of double pane windows & we combine that with the standard Dometic Furnace (Approx. 20,000 BTU), the inside of the Oliver will be warm even in cold temperatures. Additional composite materials built into the shells combined with the use of reflective and insulating materials and an air gap between the 2 shells not only helps keep the interior at comfortable levels it also helps to prevent condensation from forming on the inside.

EASY & Stable Towing
In designing the frame and the layout of the Oliver, great attention to detail was given to provide a safe, balanced and stable towing trailer.

Tongue weight is a very important factor that we address with the holding tanks being mounted low in the trailer between the shells and the batteries mounted directly over the axles. Then we designed the outer lower shell to wrap around the 2-inch x 5-inch tubular aluminum frame sections adding strength and rigidity to prevent excessive sway and twisting of the frame when hit with side winds or the turbulence from passing trucks.
Double Fiberglass Core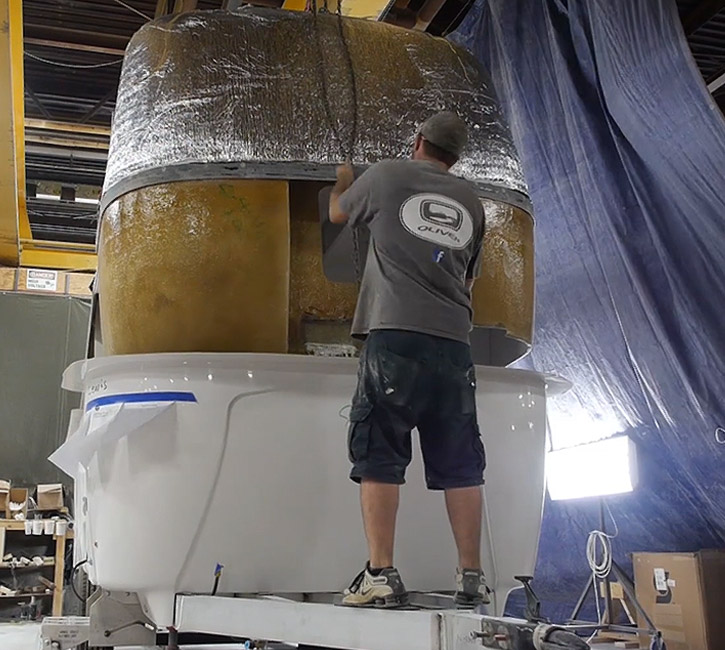 Construction of a fiberglass RV trailer is taken to the next level, not only is the exterior shell gel-coated fiberglass but the interior shell is as well. For years RV owners have sought older model fiberglass trailer units to refurbish for the superior benefits fiberglass provides over metal, laminated composites and other materials commonly used in the building of other travel trailers. With the Oliver, you will never have to go through the above process because the interior seats, cabinets, walls, floor, and counters are all gel-coated fiberglass.
Aerodynamic Design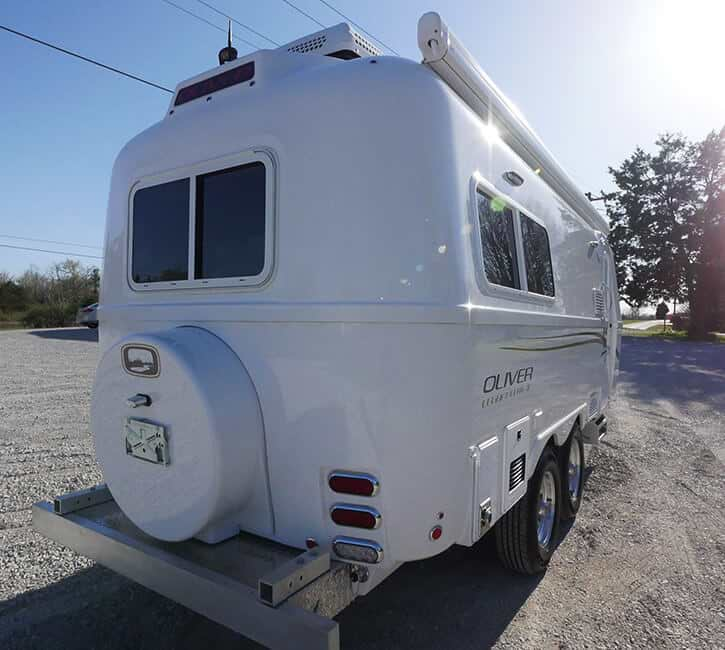 The rounded corners, smooth sides and recessed areas for external components lends the Oliver an aerodynamic benefit when towing.

An added advantage is the under belly of the trailer. With all our tanks and water lines enclosed and wrapped into the camper trailer, you avoid additional wind drag from exposed components.
Premium Class Materials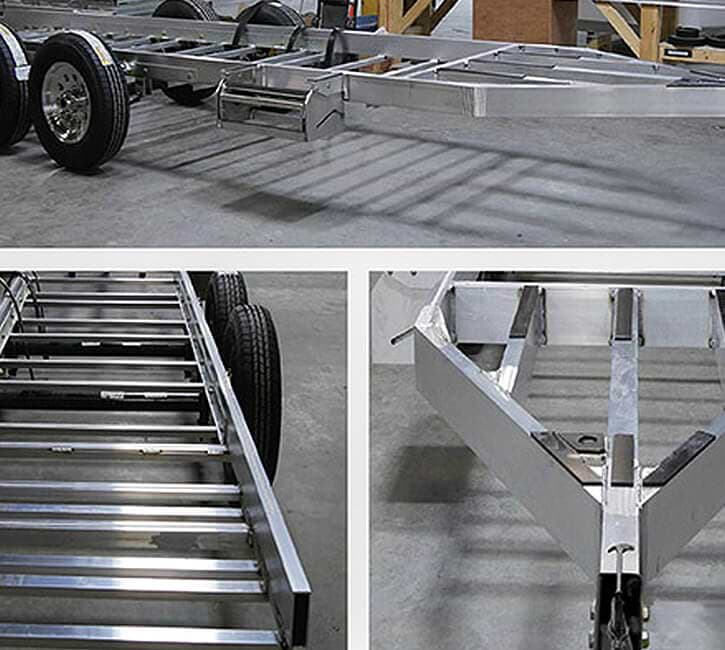 Superior construction of the shells gives you the attributes of a well-built yacht, our use of other marine-grade components in latches, the shore power connection and hinges continues to build long-lasting functionality into every trailer.

Even our frame and entry steps are built of aluminum for a "No Steel, No Rust, No Maintenance" factor.
Better Storage Capacity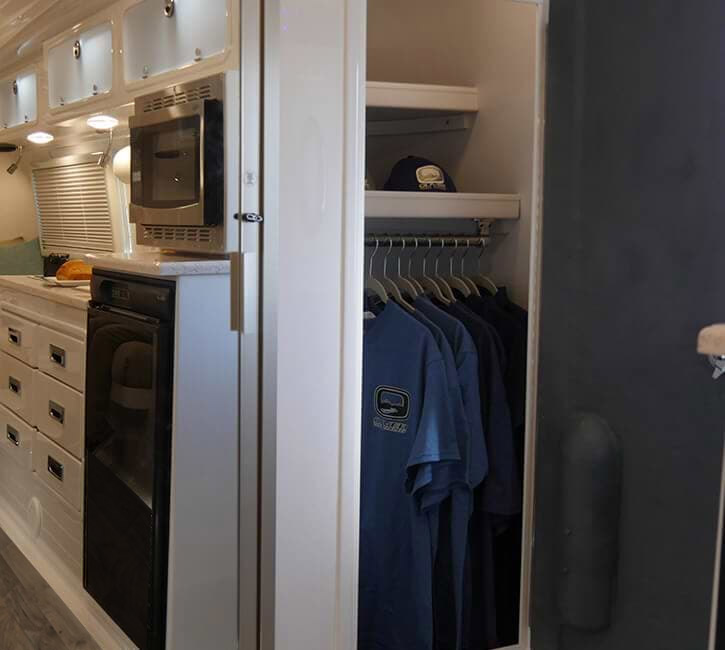 Upon entering the Oliver you will immediately notice a large floor to ceiling illuminated closet with shelving. In the kitchen, under the counter, you have one (1) spring-loaded pop-out storage compartment located at the top left and five (5) spacious dovetailed wooden slide out drawers for your cutlery, dish towels, and pans. Directly across from the drawers you have a pantry for food storage.

Overhead on both sides and the back you have illuminated storage cabinets for any other items you'll need for your journey. With access to the basement from the inside as well as a lockable outside door, you are ready to hit the road.
Self-Contained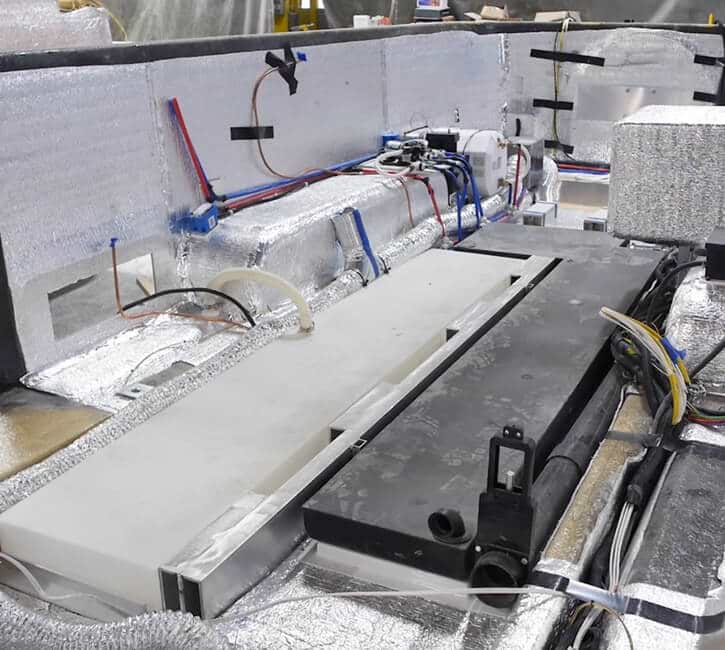 If your travels take you in directions where water and electricity are not available for periods of time you're in good shape in an Oliver.

Large fresh water and waste water holding tanks can get you through it. A battery bank of up to four batteries can provide days of use due to all our lighting being extremely energy-efficient LEDs. With two 20 pound propane tanks, you'll have plenty of hot water and cooking abilities. For even more flexibility our Elite II can be outfitted with 30 lb. propane tanks.

The optional solar package and our standard remote freshwater refill abilities can stretch your stay from days to weeks.

Composite Exterior Shell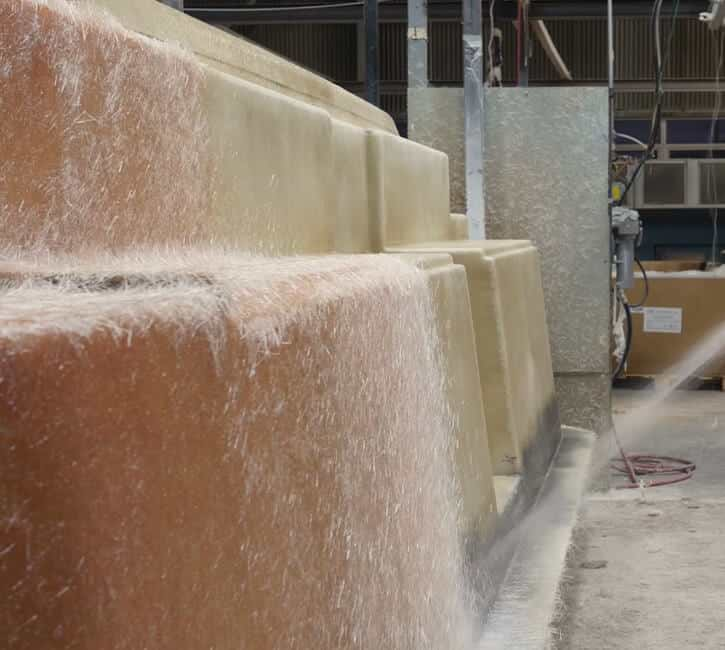 All fiberglass shells start with a gel-coat backed with a layer of chopped fiberglass strands and then hand-rolled. This is where most stop. The construction of the Oliver shells have just started.

We follow up with numerous other composite materials such as fiberglass mats and carbon core which add durability and strengthen common stress areas, preventing any loss of integrity in the unit.