Travel Trailers
Discover why travel trailers reign supreme as the top choice for RV lovers. Oliver has a trailer for every need, from lightweight to a larger model. With a trustworthy commitment to quality and craftsmanship, Oliver camping trailers will provide durability and dependability throughout your journeys. Trust us to provide the perfect travel companion for your next adventure.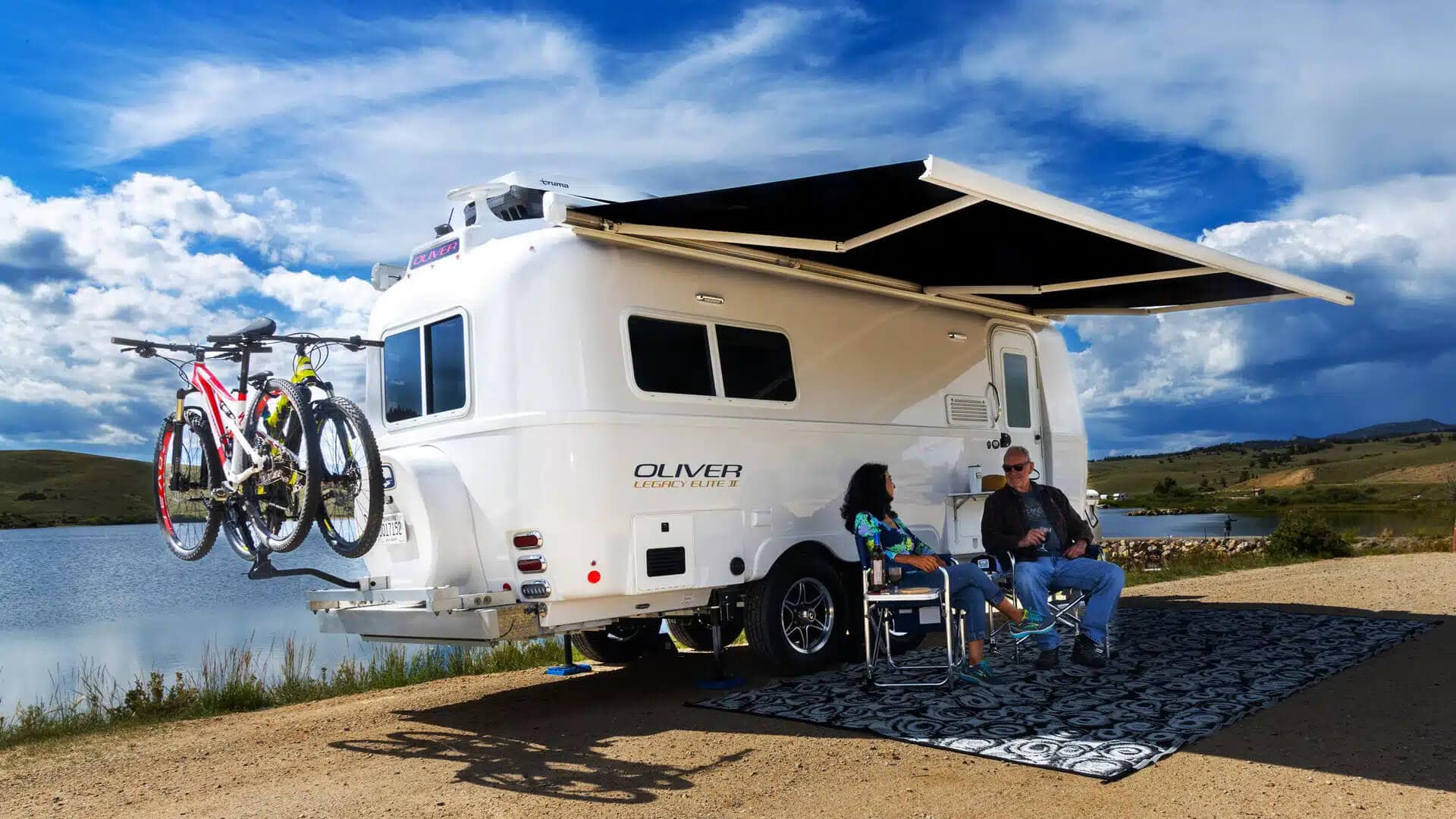 Maximize Your Travels with Luxury and Comfort

Our superior-quality travel trailers come with extraordinary standards, thorough design, and maximum effort. Experience unmatched craftsmanship and devotion - a benchmark of our top-tier industry-leading manufacturing.

See Our 2024 Models

Step into a World of Unlimited Adventure

Unleash the spirit of adventure in you with our incredibly convenient and comfortable camping trailer. Endless roads, breathtaking landscapes, starry nights, stories around campfires, and the absolute freedom to explore, all at your own pace. Doesn't it sound like a dream come true? Well, stop dreaming and start living.

Contact Us

Discover More,
Never Settle for Less

With our camping trailer, you're not just investing in a vehicle; you're investing in a lifestyle of endless excitement and discovery.

Don't limit your adventure. Don't settle for less. Transform your travel dreams into reality with our top-notch camping trailer. It's time to embrace the extraordinary!


See More About Features
2024

Travel Trailers


When it comes to the high standards we have set, you will see all of the thought, hard work, and care that went into building the best high-quality camper trailers in the industry.
Legacy Elite
Travel Trailer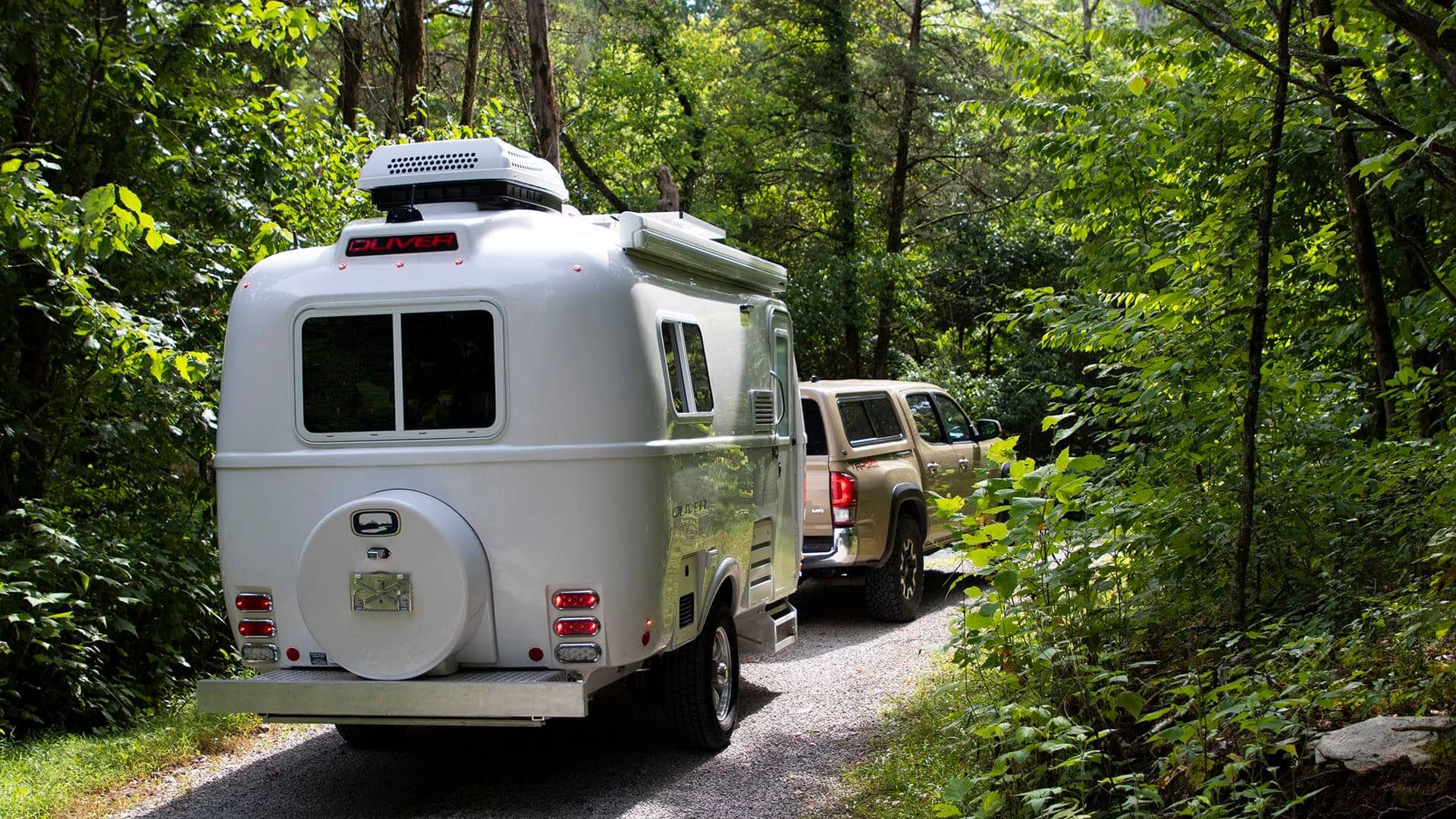 The Legacy Elite is our 18' 5" single axle RV trailer. The Elite is available in a standard floorplan that features a rear dining table that converts to a 74" x 52" bed.

You can personalize the Legacy Elite from a wide selection of optional add-ons and upgrades.

| | |
| --- | --- |
| GVWR | 5,000 lbs. |
| Dry Weight (Approximate) | 3,700 lbs. |
| Outside Length | 18' 5" |
| Outside Height to top of AC | 9' 2" |
| Outside Width | 6' 6" |
| Inside Height | 6' 1" |
| Sleeps | Up to 3 |
Explore the Legacy Elite
Legacy Elite II
Travel Trailer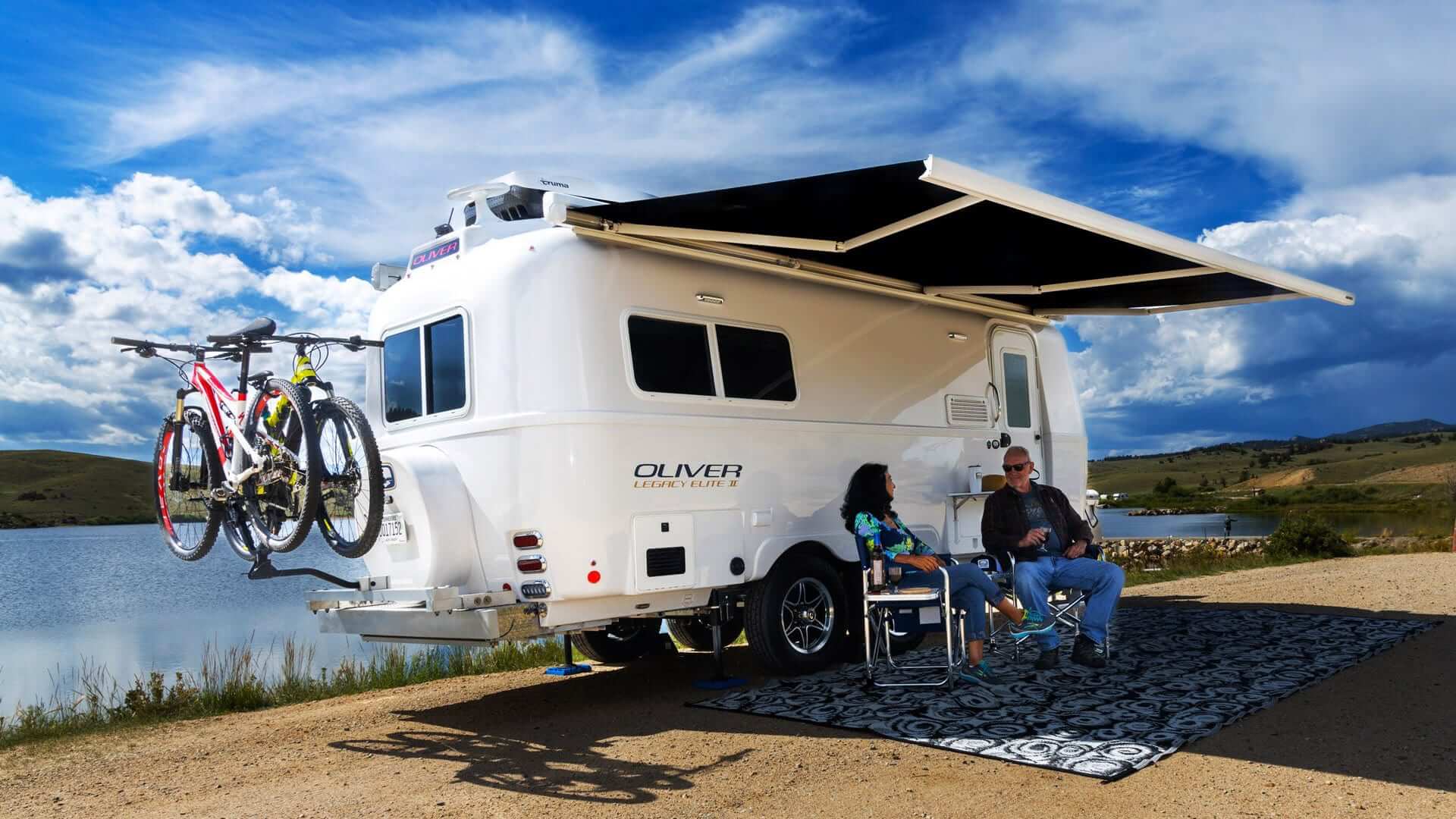 The Legacy Elite II is our 23' 6" tandem axle RV trailer and is designed for ease of use, towing and maintenance. Available in both standard and twin bed floorplans.

All models are built-to-order with your choice of decor, add-ons and upgrade options.

| | |
| --- | --- |
| GVWR | 7,000 lbs. |
| Dry Weight (Approximate) | 4,900 lbs. |
| Outside Length | 23' 6" |
| Outside Height to top of AC | 9' 8" |
| Outside Width | 7' |
| Inside Height | 6' 6" |
| Sleeps | Up to 3 |
Explore the Legacy Elite II
Disclaimer: The Oliver trailer owners in the testimonial videos below have freely shared their experience with Oliver and their travel trailers. They are real owners and have not been compensated for their review.
OWner Testimonials
Jim & Sheri's Big Adventures
Jim & Sheri Moon sat down to share their journey to find the Oliver Travel Trailer. After a lot of work, research, and list comparing trailers or campers they decided on the 2023 Oliver Travel Trailer Legacy Elite II. It met everything on their list of wants and needs.

Jim gives great advice to people considering the purchase of an Oliver Travel Trailer or any type of camper. Doing your research can be one of the best ways to determine what works best for you and your style of travel.
Legacy Elite II RV Trailer
Walkthrough Tour with Phil
We are thrilled to introduce you to the Oliver Legacy Elite II. Prepare to embark on a virtual tour as we showcase all the exciting upgrades and unchanged classic designs that make an Oliver Travel Trailer a true legacy in the industry.

Join us as Phil Andrews, an experienced Sales Associate at Oliver Travel Trailers, walks you through every aspect of this stunning trailer. From the hitch to the bumper and everything in between, we'll explore the impeccable fit and finish that sets the Legacy Elite II apart.
Quality Meets Luxury
One of a Kind
When you buy an Oliver, you're gaining a Legacy, one that can be passed down. At a competitive price, Olivers are Built to Last a Lifetime and we stand behind our travel trailers.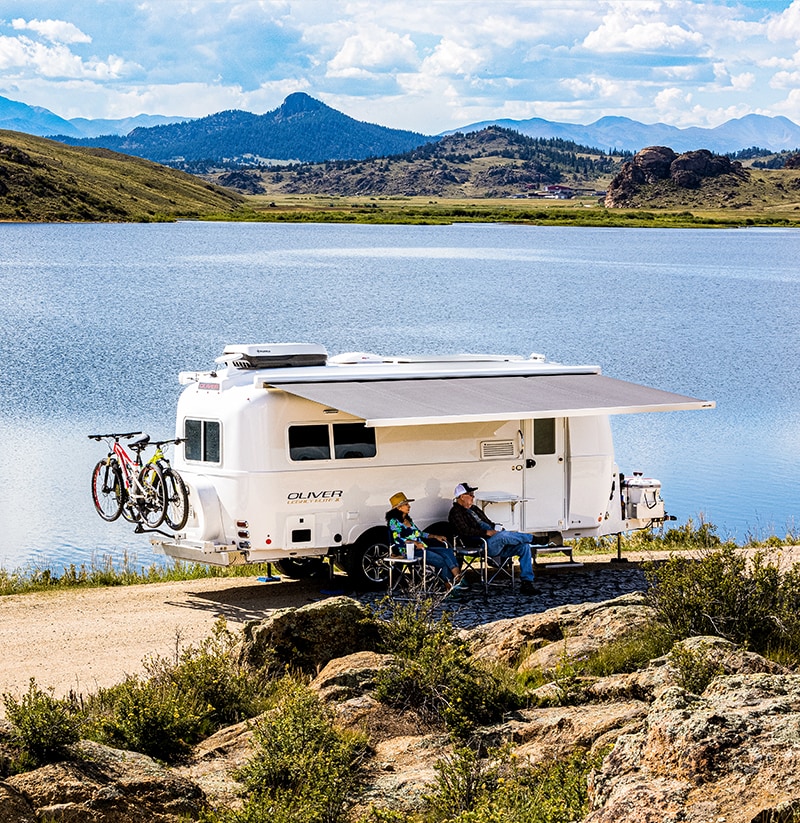 What We Offer
Features & Benefits
Factory Direct Outlet Sales with No Dealer Hassle

Aluminum Frame - Custom Built Aluminum Frame And Step Using 6061 Aluminum Equipped With Zinc Anodes To Help Resist Corrosion

Doubled-hulled Fiberglass Shell With Fully Enclosed Tanks, Plumbing, Ducts And Mechanical Systems

Enclosed Plumbing, Holding Tanks, And Drain Pipes With Heat To Prevent Freezing

Made For You - Choose From A Variety of Decor And Graphics Options

Large Water Tanks - 32 Gallon Fresh Water Tank, 32 Gallon Grey Tank And 15 Gallon Black Tank

Dometic AC 11K BTU on the Legacy Elite & Legacy Elite II

Comfortable Bed Compared To Competitor's RV Models

Sliding Thermal Pane Windows With Sliding Screens

First-Class Customer Service

Precision Crafted Interior Molded Fiberglass

Three-way Power Stabilizing Jacks

Four Season Camping Ready

Designed For Easy Towing

EZ Winterizing System

Quality Built For Life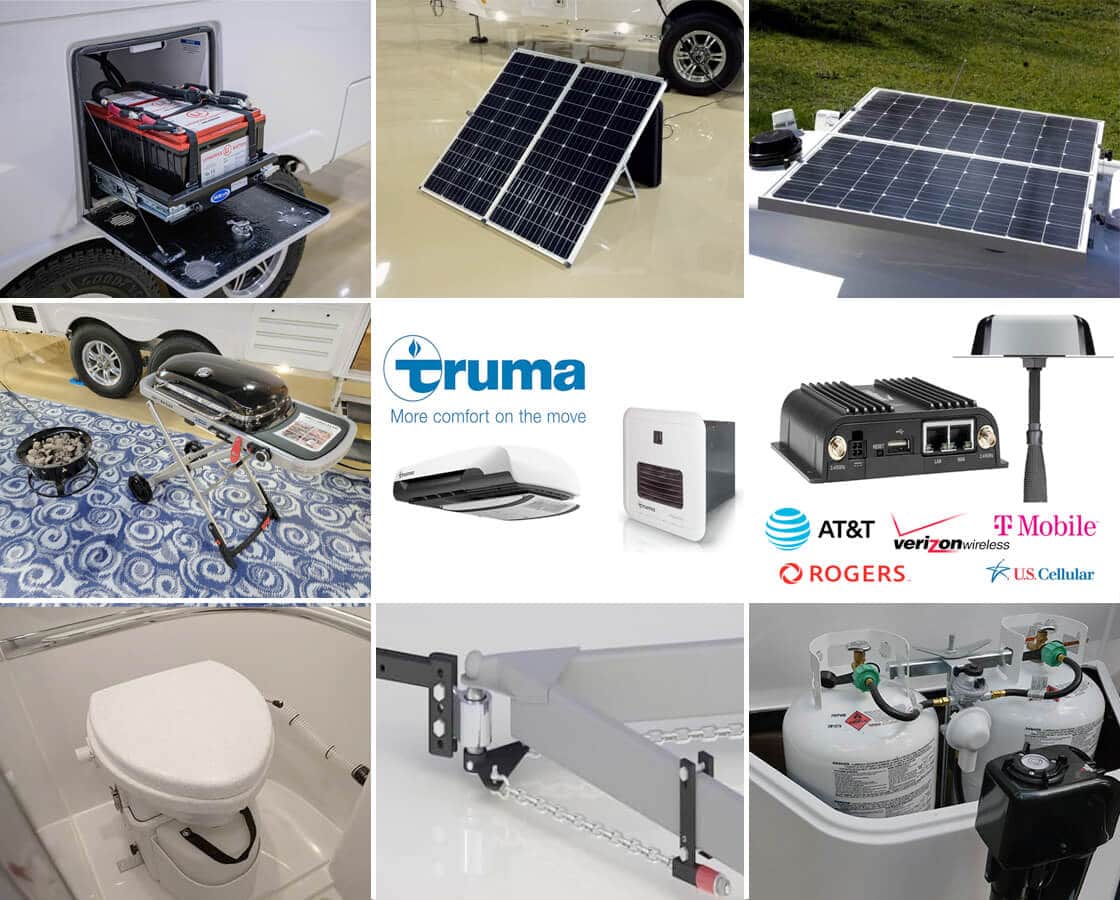 Personalize Your Oliver
Additional Features
We have put together many ways you can personalize your Oliver camper trailer and we offer a great selection Decors & Graphics options to choose from. You can do more by upgrading and adding some optional components like one of our Lithium Power Packages that helps you get off the grid and keep your Oliver trailer powered up for outdoor living.

We also offer WiFi Boosters, Cell Phone Boosters, Backup Cameras, and many more Upgrades & Add-ons to help make your Oliver Travel Trailer more personalized to your camping style, wants and needs.

Explore Upgrades & Add-Ons
Frequently Asked Questions
What makes Oliver different from other fiberglass rv trailers?
Several unique features distinguish us from our industry peers, some of which are:
We do not incorporate wood in the construction of the roof, exterior walls or floor

Eliminates concerns about wood decay

Aircraft-grade aluminum frame ensures durability

Longer lifespan
Lighter weight

Constructing our hull from four individual one-piece composite shells

Enhances structural strength
Provides better insulation
Ensures weather resistance

Many standard features on Olivers are viewed as upgrades in competitor models.
All of these exclusive characteristics and there are many more, position Oliver uniquely in the fiberglass travel trailer sector.
Is Oliver good travel trailer for four season camping?
An Oliver is designed to withstand extreme temperatures, making it an ideal travel trailer for those who wish to venture into subzero conditions. Its double-shell insulation and the enclosed design of all water lines, appliances, and tanks within the lower shell provide exceptional protection against the cold. 
Double-Hull Fiberglass Shell

Fully enclosed and heated underbelly

Plumbing lines
Water tanks
Several mechanical components

All installed between the inner and outer shells

Ducted Furnace
Double Pane Windows
You will not find a better design that provides the level of protection that the Oliver Trailer provides.
Are Oliver travel trailers good and dependable?
Travel trailers are a favored choice among RV enthusiasts. Oliver travel trailers stand out due to their distinct construction methods, high-standard quality, materials, and technologies, ensuring superior quality and dependability. Their notable standard features encompass the following:
EZ Winterizing System
Dexter E-Z Flex Suspension
Powered Pro Awning with LED Light Strip, Wind Sensor, Remote, & Upgraded Canvas
"Mighty-Mini" Intellipower Converter with built in Charge Wizard
Three Point Power Stabilizing System
Custom Enclosed Slide-Out Battery Storage

Includes Group 27 Deep Cycle 12V Batteries x4

2-Way Compressor Refrigerator
Monitoring System for Tanks and Batteries
2 Way Self Igniting Water Heater
See a lot more of the Legacy Elite II rv trailer's standard features.
Read All FAQs